Maple Lawn Cemetery
IRIS Common Burial
1917 4th St NW
Faribault, MN 55021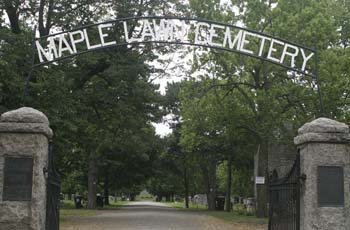 Infants Remembered In Silence, Inc. Common Burial (formally known as Empty Arms Mass Burial) was formed in the spring of 1987 by District One Hospital, Scott Boldt of Boldt Funeral Home and Diana Sundwall; then Chairman of the Board - Empty Arms Support Group. (Empty Arms Support Group formally disband in the spring of 1993)
Infants Remembered In Silence, Inc. (IRIS) was formed in 1987 under the name Faribault Pregnancy and Infant Loss Association by Diana Sundwall. This organization incorporated in 1993 under the name Infants Remembered In Silence, Inc. and received 501(c)3 status on July 5, 1994.
Infants Remembered In Silence, Inc (IRIS) official took over the common burial in the fall of 1993. IRIS has continued the common burial and annual memorial service under the direction of Executive Director; Diana Sundwall as originally agreed upon by the developers of this program. That agreement states that at the time of death the parents have the option of a private burial, cremation, or having their child buried in the IRIS common burial. (many babies in one casket) If the parents chose to let the hospital take care of remains the hospital has chosen that ALL babies that die from ectopic pregnancy, miscarriage, stillbirth and who are not buried or cremated by the parents are buried in this common burial location.
The Common Burial is located in the South West corner of Maple Lawn Cemetery (1917 NW 4th St., Faribault, Minnesota) in 6 adult burial plots. The plots are numbers 39, 40, 41, 104, 105 and 106. These plots are located in section "A" on the cemetery near the burial location of Indian Chief Taopi.
In 1996, the cemetery also gave us the walkway between and around the plots. The first burial outside of the adult plot began with burial number 13. Please note that burial 13 was two (2) containers.
A new marker was donated by Boldt Funeral Home in October 1997 following the theft of a large concrete basket that made finding the location of the burial site easy. The Marker was centered in the plots and the old flat marker was relocated, and placed in front of the new upright marker. (See photos) It should be noted that No Individual Markers can be erected at this location.